Connecting Ethiopian Businesses to the Web (2.0)
Bandira Addis Map Ent. P.L.C, founded in 2009, produces map products in a sustainable and community-focused way.
More
The AddisMap.com Website serves as an interactive city guide, for tourists and residents. A custom mobile map application helps users on the road to find places. 50% of Bandira Addis Map PLC net profit will be donated to non-profit organizations (currently: 4% to OSM Foundation, 96% to selected Local NGOs, functioning throughout Ethiopia.) License in Addis Ababa city administration trade and industry office by the number of 04/2/3/22729/01. You can download GARMIN maps of Ethiopia in our download area.
"Map Up Addis!"
The first Ethiopian OSM Mapping Party with the theme "Map Up Addis!" was held in Addis Ababa on March 18 Sunday 2012 Starting 3:00 am in the Morning to 7:00 am afternoon. For further reading checkout our:
Our Address
Bandira Addis Map Entertainment Pvt. Ltd. Co. (Business)
From Gotera Interchange to Debre Zeit Road past the first left Olibiya
Nifas Silk Lafto, House No. 1496
Addis Ababa, Ethiopia
Directions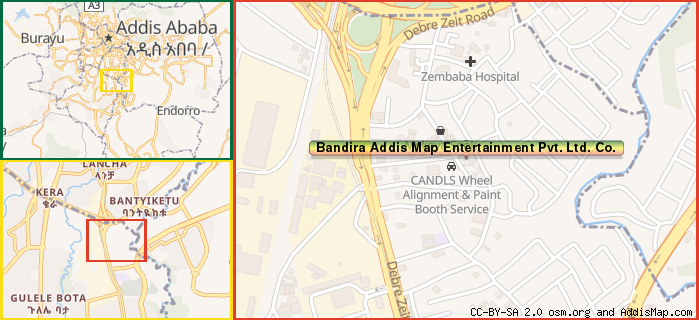 Reviews
For each useful feedback (one per business, at least 15 words) we pay 1 Birr to your mobile number.
---
Anything missing?
Mail us Pictures, Brochures, Menu-cards, ...
---